Barb Adams
"Our world is upside down. Doctors destroy our health. Lawyers destroy justice. The government destroys our freedom. The mainstream media destroys information, and our religions destroy our spirituality. We at war constantly with each other".
Said Dr. Jack Pruett, M.D., a practicing physician for the past 40 years in rural southeast Texas and long-time friend and former medical partner of Congressman and presidential candidate Ron Paul. But is all of this part of the grandest deception ever played out on humanity?
Dr. Pruett is the author of the recently released book, The Grandest Deception, which details his extensive research into the origins of humanity, the universe, and the nature of our own existence on Earth. A scholar and expert on ancient Sumerian texts, The Dead Sea Scrolls, The Old and New Testaments, various religious and spiritual writings, and the complete works of Zecharia Sitchin, Dr. Pruett has come up with his own theory that casts a suspicious eye on government, politics, the church, religion, and on the Bible and ties it to ancient aliens and the lives we lead today.
Considering the turmoil the world is facing, Dr. Pruett believes that through the truth of the past, humanity will find hope for its future. He believes ancient astronauts called the Annunaki came to Earth in our distant past and created humanity, promising to return in the future. He also believes that remnants of the Annunaki and their human, bloodline descendants run the world today, including influencing our monetary system into collapse, and that there is a planned agenda that we will face during the New World Order.
Dr. Pruett is not alone in his beliefs, and his work complements the extensive research of Zecharia Sitchin, although he states that his opinions do not represent the opinions of the late Zecharia Sitchin or anyone else.
As evidence for his theory, Dr. Pruett says we only need look at what our own government is doing and how the pharmaceutical industry is colluding to dumb us down. He believes this is all part of the Annunaki's plan to create the perfect docile slave race of biological robots. He suggests that genetic experimentation during abductions is a way to manipulate our genetic makeup; and that the growing numbers of people at earlier ages taking prescribed psychotropic drugs is a means of control.
It's a bitter pill to swallow, states Dr. Pruett, that the Annunaki view us as having no value to them other than as a race of slaves, and that they are manipulating and controlling us without regard.
The most controversial part of Dr. Pruett's research, however, is his contention that the Bible is actually a story about the Annunaki, and that many of the stories from the Old Testament are condensed, altered, and edited versions of the Ancient Sumerian Tablets. He believes that the Annunaki deceived Mankind into believing that the Bible is a story about God when it was actually written about them, thus, fooling Mankind into worshipping them as gods. Interestingly, however, he states that the Annunaki themselves believe in a supreme being as creator of everything.
So will the Annunaki return as promised? Dr. Pruett again refers to the Bible as evidence that they will return and that there will be a Second Coming and a time of tribulation.
He believes that what we are experiencing in our world now is part of their plan, and that when they return there will be extinction for millions and they will accumulate the rest of the wealth on Earth and rule over us as the New World Order.
Although Dr. Pruett's theory is highly controversial and seemingly dark, he does believe there is hope for humanity. By understanding how all of this came into being we can change the coming planned extinction and alter the fate that the Annunaki supposedly have planned for humanity. If he's right, let's hope so!
Dr. Pruett will be the guest on Amerika Now this Saturday, August 27th. He will also be hosting a live webinar on August 31st at 6PM Pacific/9PM Eastern.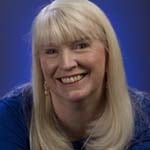 Barb Adams is the talk radio host of Amerika Now, which airs on GCN every Saturday night from 9:00 p.m. – 1:00 a.m. CST. Or listen On Demand anytime. Join her every week for a dose of reality, solutions, some great tunes, and the search for truth.